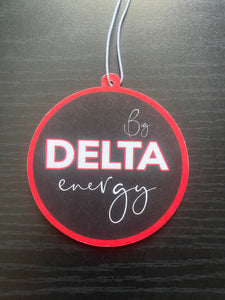 Simply Wooderful, LLC
Jasmine "Big Delta Energy" Car Freshner
Regular price
$2.50
Sale price
$5.00
Unit price
per
Introducing our "Big Delta Energy" Jasmine Scent Car Air Freshener, designed to provide your vehicle with a refreshing and invigorating scent that will keep you feeling energized throughout your journeys. Made with high-quality ingredients, this air freshener emits a delightful jasmine aroma that will instantly transform the ambiance of your car.
Our air freshener is easy to use and long-lasting, ensuring that your car remains fresh and fragrant for weeks to come. Simply hang the air freshener from your rearview mirror or place it in a cup holder and allow the natural scent to permeate your vehicle. The compact size of this air freshener makes it ideal for use in cars of all sizes.
In addition to its pleasant scent, our Jasmine Scent Car Air Freshener is also eco-friendly and safe for use around children and pets. It contains no harmful chemicals or artificial fragrances, making it a great choice for anyone who values natural and sustainable products.
---